What are the differences between the 2022 Bolt EV and the 2022 Bolt EUV?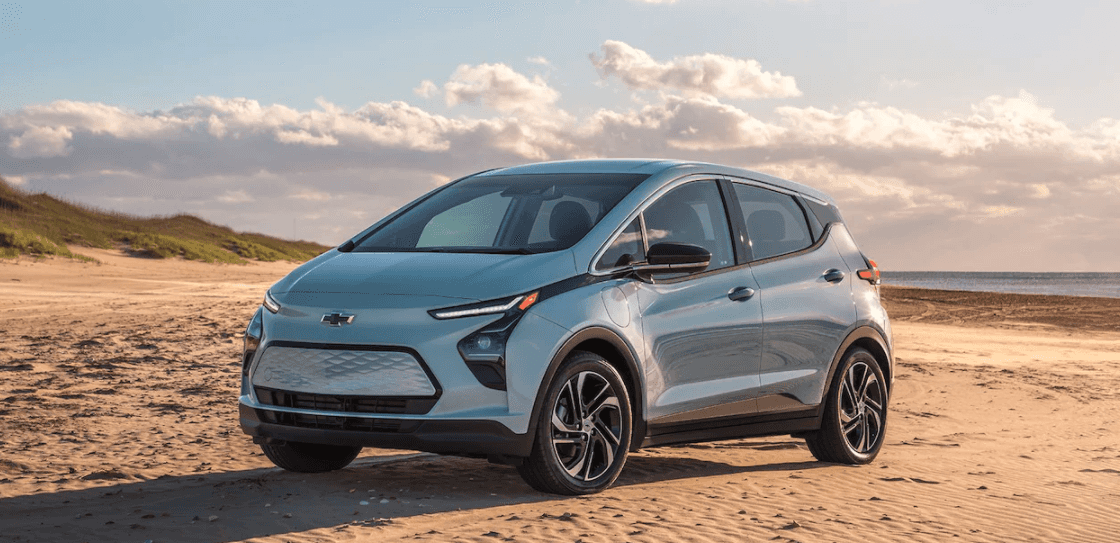 If you're thinking about getting a Chevy electric vehicle, now is a great time to do so. GM has given the 2022 Chevy Bolt EV a facelift from last year and introduced the all-new 2022 Bolt EUV, which is a bit longer and larger while still providing excellent electric range and value.
The 2022 Bolt EUV is built on the same platform as the Bolt EV, but it has completely new exterior panels as well as a few other extras over its smaller sibling. Let's take a closer look at the differences between the two to see which is a better fit for you.
Roomy and Comfortable Electric Vehicles
One of the main reasons Chevrolet has introduced the new Bolt EUV is for a slight size boost over the Bolt EV, giving back-seat passengers a bit more legroom and making the car feel a bit more substantial on the road. Paired with the EUV's strong-looking front fascia and overall design, the EUV is a powerful contender on busy Salt Lake City streets.
The 2022 Chevy Bolt EUV is six inches longer than the Bolt EV, as well as a more muscular design. Inside, the Bolt EUV gains about three inches in rear legroom over the EV for a total of 39.1 inches. That makes for a sizable back seat, especially for a compact crossover, meaning your passengers will be comfortable no matter how far you go.
If you're looking to carry more stuff than people, the Bolt EV actually has a slight edge over the EUV, with 57 cubic feet of max cargo volume versus the EUV's 56.9 cubic feet. However, the EUV has an under-floor bin that opens up another 8-9 inches for the really big stuff.
Electric Drivetrains Without Range Worries
The 2022 Chevrolet Bolt EUV is built with the same 65 kWh lithium-ion battery pack as the Bolt EV and has the same electric motor. Both vehicles generate 150 horsepower and 266 lb-ft of torque with their front-wheel-drive configurations, which is plenty for maneuvering in and out of traffic and jumping from stoplights.
Of course, one of the main factors to consider when purchasing an electric vehicle is how far you can drive before needing to charge. The range of the new Chevy Bolt EV is estimated by GM to be 259 miles, whereas the larger and heavier Bolt EUV has an estimated 250-mile range.
No matter which Chevy you choose, you won't have to worry about being stranded. There are plenty of charging stations throughout Utah and the rest of the West, and more are being added all the time: GM has partnered with the EVgo network to add 2,700 fast-charging stations by 2025. Plus, when you buy either Bolt model, you'll get a dual-level charge cord, and Chevrolet will cover the cost of installing a Level 2 port at eligible customers' houses.

Top-of-the-Line Technology in the new Bolt EUV
If you want the newest tech features in your electric vehicle, the 2022 Chevy Bolt EUV is the right choice for you. It's the first non-Cadillac vehicle in GM's arsenal to offer Super Cruise, a step between standard cruise control and full-on driving automation. Other features that the EUV has over the EV are available ventilated front seats and panoramic sunroof, so you can drive all over Utah in comfort and style.
Both cars are chock-full of other tech features, like the Chevy Safety Assist suite, One Pedal Driving, a Driver Info Center, and the myChevrolet Mobile App with Energy Assist, which helps you find charging stations on road trips.
Buy a new Chevy Bolt from Seiner Chevrolet Salt Lake
Which Chevy Bolt will you choose? Whether you know right now or want to try a test drive, the friendly sales staff at Seiner Chevrolet Salt Lake are happy to help you! We've got a wide selection of Chevrolet electric vehicles, and with our comprehensive financing and servicing deals, we make owning a Chevy easier than ever. Come to our dealership, conveniently located near I-15 in Salt Lake City, today!